Project Management Portal
Manage your entire business's workflow in one place.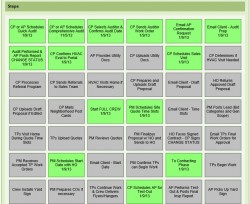 Building Energy Pros' "Project Management (PM) Portal" is an easy-to-use online sales and project management tool. It's designed to track projects from initial energy audit to retrofit work to final evaluation - and provides your Auditor and Trade Partners immediate access to key project information.
Energy auditing and home performance contracting requires a tremendous amount of time scheduling projects, sharing audit reports, bidding upgrades, assigning Trade Partners, preparing work orders, scheduling and performing retrofitting, tracking progress, performing final test-outs, preparing and sending utility program documentation, etc - and constantly communicating progress with our Clients. PM Portal is designed specifically for the home performance contracting industry, to help you and your Partners more easily complete projects on time, within budget and with excellent customer experience.

Benefits & Key Features:
Efficient tracking of all potential audit and retrofitting leads with step-by-step process
Automatically schedules audits, sales visits and retrofitting to PM Portal Calendar
Shows data and calendar changes immediately to all users
Convenient way to share audit reports, client data, photos, etc. with Auditor & Trade Partners
Communicates to mobile devices for easy access to project information from the field
Tracks monthly and annual retrofitting sales and creates sales report
Includes regular automatic communication with your Clients
Provides one-stop location for all Client and project information
Simple process for tracking Clients from initial audit sale to final evaluation
Automatically generates key project management and financial reports
Offers regional tracking for larger companies
Ability to assign initial auditor, sales person and test-out auditor to projects
Allows company manager to assign different info security clearance to individual users
Ability for Trade Partners to upload quotes directly into Client portal
Records status with utility, weatherization or local government programs
Provides option to filter projects by Auditor, Salesperson or Region
Ability to prepare scopes of work directly within the PM Portal
Creates work orders and allows Trade Partners to contract directly within the PM Portal

Demonstration

Sample Screen Shots
Roll over images for description. Click to enlarge.

Hardware Requirements
BEP Project Management Portal requires internet access - no additional software is required. PM Portal is especially efficient to use on mobile devices.

Ordering Information
BEP Project Management Portal is included in our Turn-Key Business Package or available a la carte. Please call us at 1-800-309-6006 or email info@buildingenergypros.com or for additional licensing information or to order. BEP PM Portal is provided as a monthly or annual license which includes unlimited free upgrades.  Basic package includes up to 6 users. PM Portal provides the key project management reports but customized reports are available for an additional fee.