Content-Ready Website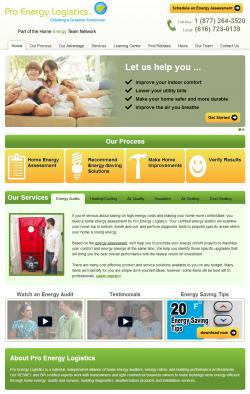 Your professionally designed, feature-rich website is loaded with articles, videos and other resources to highlight your contracting services (if applicable) while positioning you as an energy efficiency expert.
The many features and tools are designed to engage and educate consumers, build their trust in you – and capture leads.
We will customize your website with your company information and pictures, and add content relevant to the services you provide (see service list below). You can easily add content and edit by yourself, anytime, at no additional cost. 
Your website can be branded with your company's colors and logo, or use theBuilding Energy Pros branding. Either way, your affiliate website immediately establishes your credibility with a Fortune 500 look and feel.
Choose the specialty services that you want to appear on your website:
Energy Audits
Air Sealing
Roofing
Windows & Doors
Heating & Cooling (HVAC)
Air Quality
Siding & Gutters
Mold
Insulation
Duct Sealing
Solar
LED Lighting
Website features include:
Articles & Videos
Many homeowners want to learn more before scheduling an appointment. That's why your website comes pre-loaded with dozens of informative articles about energy-saving services (your trade specialties), energy audits, energy-saving tips and home-based solutions – all professionally written to rank high in the search engines. Many articles are accompanied by videos to enhance your visitor's experience. You can add your own articles and videos, and edit existing articles for a more personalized, local feel.
Capture Leads
Your website is designed to have homeowners schedule an energy assessment with you, either by phone or by filling out an online form.  You can also capture homeowners' contact information when they download a free energy saving tips brochure or sign up for theBuilding Energy Pros eNewsletter.
Money-Saving Rebates
Your website comes pre-loaded with a Money Saving Rebates finder (powered by Greenohm), where homeowners can get detailed information about local, federal, state and utility-sponsored rebates and incentives. Homeowners can download rebate forms, and you capture their contact information.  All information is updated automatically.  This handy tool engages homeowners who are motivated by incentives.
Search Engine Optimization
Your website is optimized for all major search engines for your local area. Although you may not be able to see it, your website is coded by SEO Samba's affiliate marketing platform using the industry's best practices for search engine optimization and high rankings.  Your site is linked behind the scenes with "hub and spoke technology" to the mainBuilding Energy Pros website and all the other affiliate websites, giving our affiliate network more power in all the major search engines.
Interactive Virtual House
The Interactive Virtual House provides a fun and engaging way for homeowners to learn about energy efficiency. They will learn about potential issues in each room of their home, and be better prepared when you're talking to them about the recommended upgrades for their home. The Interactive Virtual House is located in your website's Learning Center.
Press Release Distribution
Integrated into your website's back end is an easy-to-use, automated press release function allowing you to prepare and distribute an unlimited number of press releases.  Your releases are automatically sent to hundreds of relevant news outlets and blogs to increase your exposure.  You can also send your press releases to local destinations of your choice.
Integrated Social Networks, Blog & Newsletters
Your integrated website saves you time by automatically updating your Facebook and Twitter accounts, as well as your blog, when you publish new content on your affiliate site. You can also create a newsletter from your website's Hot News section and send it via your email marketing platform of choice in one click.
Optional Features
(Additional fees apply)
E-Commerce - Turn your affiliate site into an e-commerce store.  Enter an unlimited number of products with the easy-to-use interface.
Quote Engine - A powerful yet easy-to-use online quotation system which allows you to receive payment online.  Get automatic notification of new quote requests from website visitors.  You can also create quotes from scratch, and use it as a point of sale  (POS) or over the phone quote system.  Includes online pdf invoicing and customer account interface.
Ordering Information
Your Content-Ready Website is included in our Turn-Key Business Package or available a la carte. Please call us at 1-800-309-6006 or email info@buildingenergypros.com or for additional information or to order.