Coaching & Mentoring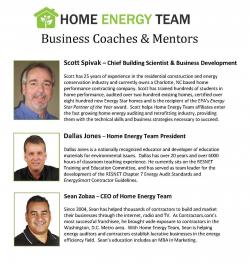 If you're new to the home performance industry – or
running a business – rest assured that you're not alone.
We're here to coach you through, every step of the way.
Learn from those who have been there and done it.
Why re-invent the wheel when you can learn from others' experience?
1-on-1 Coaching / Consulting
Get 1-on-1 business coaching from our experienced team of coaches. We're here to provide guidance on any aspect of your business to keep you on track and help you move forward. Our coaches have completed over 1000 weatherization jobs and run highly successful businesses.  Benefit from their experience.
On-Demand Mentoring Videos
Pre-recorded videos by our mentors discuss business, marketing and sales strategies, techniques and best practices. Learn about the latest energy-saving products and services, the best ways to incorporate them into your business, and how to position them to get homeowner buy-in. Learn what works – and what doesn't! New videos are available on a regular basis.