Training Options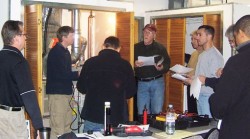 Proper training and certification are essential for running a successful building performance business. That's why certification training is included* for 2 employees with the Complete Turn-Key Package.
We'll help you get the right certification training and/or on-the-job training to fit your specific needs. Training is also available a la carte.
Certification Training
In the home performance business, having the right certifications gives you the knowledge and credibility to help you close the sale. We'll arrange your certification training with one of our professional training partners. Recommended certifications include:
BPI Building Analyst

BPI Building Envelope Specialist

BPI Advanced Weatherization Installer (RBE-WH-ALCI)

BPI Building Science Professional

RESNET HERS Rater

RESNET EnergySmart Contractor

DOE Weatherization Installer 1 & 2
Read our whitepaper on training 

On The Job Training
We'll match you with existing businesses to learn how to conduct energy audits and perform weatherization installations. Nothing beats hands-on work on a real job to really learn the ropes! Our experienced trainers will help you learn every step of the way.
We'll also teach you how to effectively position and sell energy-saving products, services and audits to homeowners to close sales and maximize your profits. Get it right from the start, avoid mistakes, and learn how to take advantage of revenue-generating opportunities.
You'll Learn:
Air Sealing
Advanced Heating, Cooling and Ventilation Diagnostics
Heating & Cooling Duct Renovation & Fresh Air
Insulation
Closed Crawl Space Sealing
Attic Stair Cover Installation
Solar Water Heating
Call for a custom quote: 1(800) 309-6006

*  Exams, books & simulations extra