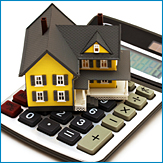 Green Solutions: Benefit Your Home, Your Pocketbook and the Environment
Find Out Where YOUR Home is Losing Energy:
As homes age, a number of problems may start to arise as various systems within the house become less efficient or break down. Some of the common age-related issues you may encounter include:
Drafty rooms
Excess dust
Ice dams
Moisture on window panes
Mold or mildew
Peeling paint
There is a common theme shared by all these issues - they all result from, or are related to, energy inefficiencies in your home. With rising energy costs, you may want to consider some "greener" solutions, which will remedy the problem, making your home more enjoyable while saving energy and helping the environment.
Why go green?
Green solutions for energy efficiency are beneficial because they reduce the amount of energy that your home consumes. Purchasing ENERGY STAR qualified products and installing greener technologies like tank less water heaters, solar water heaters and geothermal heat pumps all save energy, which is good for your pocketbook and increases the value of your home - and it also helps the environment. By reducing the amount of energy your home consumes, you're reducing the amount of pollution that's released in the process of generating the energy you use.
Electricity generation harms the environment
Generating electricity is a major source of environmental pollution. The by-products released from power generating plants are known to contribute to acid rain, smog and global warming. The less energy we use in our homes, the less pollution we create. By using green products and appliances which reduce energy consumption, you're having a direct, positive impact on the environment.
While there are renewable energy sources for generation of electricity, the US is still developing this capability for large scale production and use. Currently, the primary source of electricity in the US is coal. In 2009, 4 trillion kilowatt hours of electricity were generated in the US, of which 45% came from dirty coal.
Professional energy audits help reduce energy consumption
The best way to assess your home's energy consumption and inefficiencies is through a home energy audit. A professional energy auditor thoroughly examines your home and outdoor property, and uses special diagnostic equipment to assess the energy efficiency.of your home. You get a detailed report outlining the problem areas, along with specific recommendations for how to remedy them. Schedule a home energy audit.
Online energy analysis
If you're not ready for a professional home energy audit, you can do a preliminary assessment with a free web-based tool developed by ENERGY STAR. Using the information from your past year's energy bills, the ENERGY STAR Home Energy Yardstick compares the energy efficiency of your home with similar homes in the same climate region. The Energy Yardstick also provides generic recommendations for improving your home's energy efficiency. Click on the following link to access the ENERGY STAR Home Energy Yardstick.
While this tool is nowhere near as comprehensive as a home energy audit conducted by a certified, trained professional auditor, it can start you on the road to improved energy efficiency.
Make a plan to start saving energy
By understanding your home's relative energy efficiency, you can plan upgrades to improve the energy efficiency of your home. A more energy efficient home isn't just good for your wallet - it's doing your part for the environment too. Help fight global warming by saving energy with green solutions today.
Home Energy Problems & Solutions:
We were unaware of what was involved in an energy audit and your audior took the time to explain everything. We were impressed with the report which told us the areas in which we need to take action on. He never pressured us to use any particular contractors, he just suggested that we go to the Building Energy Pros web site to select contractors of our own choice. He did an excellent job and we HIGHLY recommend the Building Energy Pros. We already have recommended them to several of our neighbors. Again, EXCELLENT JOB!
Cynthia Simpson
The Building Energy Pros auditor was very knowledgeable. I was VERY HAPPY with him. He promptly E-mailed my energy audit report to me and I will consider all of his recommendations.
Tom McGee
We found out that our house really has no energy problems. We are happy to know that we
Leslie Stewart
I was very satisfied with your energy auditor. He was very qualified and spent a great deal of time with me. The energy audit was very informative.
P.B.
The energy auditor was very good and helpful. He keeps in touch with me to answer any of my questions.
D.G.
I was very satisfied with my energy audit. The auditor gave me some tips on attic insulation that were very helpful.
R.G.
I was very satisfied with my energy audit. Thank you!
R.S.
Very good service! I am going to replace the windows as the auditor had suggested.
D.W.
I was very happy with the energy audit. THANKS!
A. M.
My energy audit was very helpful. Joe Dempsey, your auditor, identified some structural problems that I was not aware of and explained to me why I need more insulation.
J. F.
The auditor was EXCELLENT! He spent ALOT of time with me. I am going to take 3 to 4 of his suggestions and correct these small items to save on my energy bills.
M. B.
The auditor did a GREAT JOB! He knew a lot about older homes, which we have. The report was very comprehensive. Thank you!
Vicki Nez/at
Your energy auditor was very nice and helpful. He answered all of our questions. We will recommend Building Energy Pros to our friends and neighbors.
Katherine McCaffrey
The auditor did a TERRIFIC JOB! The report was FANTASTIC! I will make all the repairs he suggested. I will definitely recommend him to everyone I know that could benefit from a home energy audit.
Steve Sleigh, Chevy Chase
The energy auditor was very professional and I am very satisfied with both the energy audit and the report I received. I will be referring the Building Energy Pros.
Tim Clary
I was very satisfied with the auditor. He was great and gave me some very valuable information. I will refer him to people I know who may need a home energy audit.
Willie Gantt
Your home energy audit proved to be very informative and helpful. I was not aware of the updraft created inside our walls because of the balloon framing construction. You said that that can cause heat to be pulled out of the house with the draft going up inside the walls and should be re-mediated. You also said that the attic insulation was insufficient and that fiberglass batts can leave spaces for around the edges causing heat loss and that it should have blown in insulation on top of what was there to seal the whole attic and increase the r factor. After going over your findings and telling me how you would fix the problems you told me how I could do it myself with stuff from the Home Center and for a quarter of the cost. Well, I did. I went into the basement and filled the bottom of the wall joist with unfaced insulation where they set on the sill plate. I then cut one inch foam board the size for each space and set it in and the sealed the edges of that with expanding foam as well as the sill plate to the foundation. I also sealed the sill plate to the foundation where the joist ran along it, as well as the top of those joist where it made contact with the subflooring. Next I went to the home center and rented their blown insulation machine and got ten bales of the insulation. I filled the attic on top of the batt insulation with about six inches giving another r-19 factor on top of the r-19 that was there. You said that the blown in would also help seal the heat loss around the edges of the batt. The work in the basement cost $144.00 and the work in the attic cost $328.00. After the 30% federal energy tax credit it will end up costing me about $330.00, which you said I should recover in savings in the first year. Thank You for all your advice and expertise. You made me aware of things I should consider and did.
Tommy Thompson